Frequently Asked Questions
What airtime can be used?
Airtimedatahub accepts all networks, which includes MTN, Airtel, Glo, and 9Mobile.
How do I convert airtime to cash?
Using our online converter, it is as easy as the image below.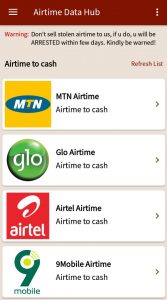 What is the minimum airtime amount accepted?
The lowest airtime amount you can sell to us here is ₦1000
When will I receive the cash?
The money will be sent into your bank account once we receive your airtime.
What are the fees?
We charge only 20% fee on each MTN airtime transaction. So we will send N800 into your bank account if you convert N1000 airtime (20%), and so on.
This is the cheapest offer available in Nigeria at the moment. Check our Charges and Fees page to see others.
Do I get referral commission?
Yes u do. We plan 2% referral commission on all airtime transaction.
Brain Behind airtimedatahub?
The service is developed by Nurenta Global Concept Ltd, a well-known reputable organization with vast experience in telecommunications. The app is organized vibrant and dynamic young entrepreneurs.